Crime
A Survey of Hitchcock Films Not Directed by Alfred Hitchcock ‹ CrimeReads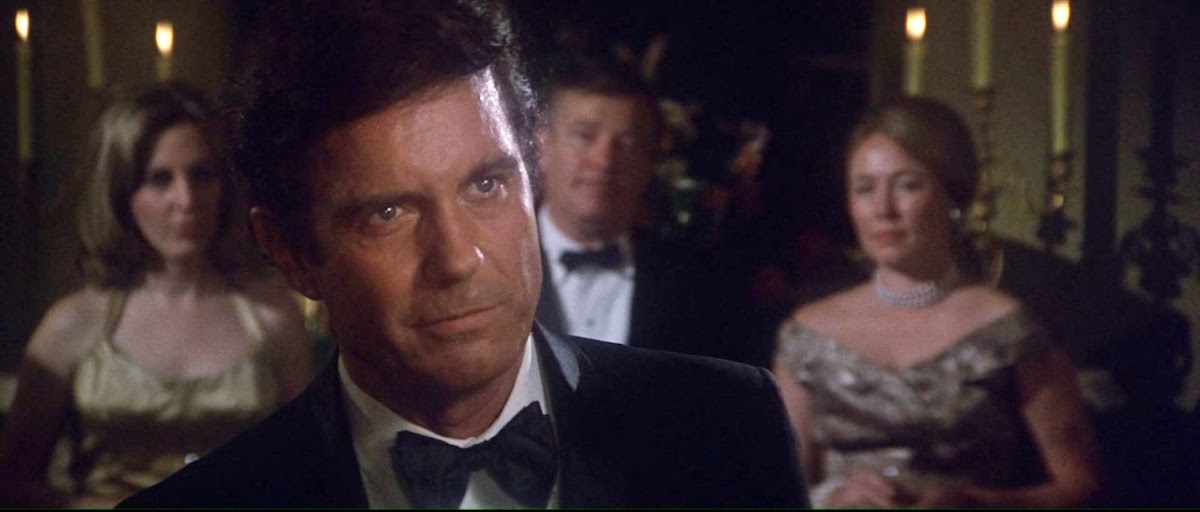 Maybe we shouldn't put so much stock in first impressions. The storied costume designer Edith Head initially met Alfred Hitchcock during preproduction of his film Notorious (1946). She had been loaned out by her home studio, Paramount Pictures, at the request of star Ingrid Bergman, with whom Edith had developed a rapport. (Forgive the familiarity. I call her Edith because she's one-half of the detective duo in the Golden Age Hollywood mysteries that I write with my wife Rosemarie under the pen name Renee Patrick.) Edith certainly understood the assignment; a daring midriff-baring, zebra-striped top immediately establishes Bergman's Alicia Huberman as a self-destructive party girl who can be molded into a spy by intelligence agent Cary Grant. Publicly, Edith was circumspect about the work, saying, "The job was tricky." In private, though, she found the director demanding, asking her colleague Adele Balkan, who was designing costumes for the other women in the cast, "Is he giving you as much trouble as he is giving me?"
Several years later, Hitchcock pitched his tent at Paramount. Edith swiftly became one of his most valued collaborators. Among the ten films in their partnership after Notorious are masterpieces like Rear Window (1954) and Vertigo (1958), Hitchcock's swan song Family Plot (1976), and the movie Edith named as her own favorite, To Catch a Thief (1955). "Hitchcock thinks in terms of color," she wrote in her memoir The Dress Doctor, noting "every costume is indicated when he sends me the script." She simply had to adjust to his granular, all-encompassing style of filmmaking. As she explained, "Hitchcock is a director who dominates every single scene of his pictures."
That dominance led to two of the highest compliments imaginable: an adjective ("Hitchcockian") and scores of imitators. Filmmakers were working in the Hitchcock style when he was operating at his peak, and they're still doing so today. Time for an appraisal of Alfred Hitchcock movies that were not directed by Alfred Hitchcock, although his spirit hangs over each and every one of them. The list is by no means definitive; Hitchcock casts a shadow so large that it has its own shadows. Think of it instead as representative, eighty years' worth of films invisibly shaped by one of the essential artists of the twentieth century.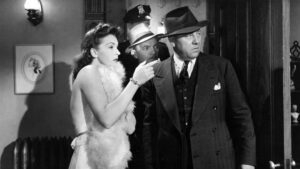 Fly-by-Night (1942)
Let's start with the earliest Hitchcock knockoff. The director had successes before The 39 Steps, but the 1935 thriller is in essence the first "Hitchcock movie." All the elements are in place: the deft blending of suspense and comedy; the signature "double chase" structure of the police pursuing the "wrong man" while he seeks the actual villains; an icy blonde (Madeleine Carroll) to be thawed. Paramount paid The 39 Steps the ultimate compliment when their B-movie unit basically copied it. Fly-by-Night is gossamer spy nonsense that may borrow liberally from Steps, but it does so with great flair. More importantly, it preserves Hitch's light touch. The surest sign that Fly-by-Night works on its own merits is that among its fans was Joan Harrison, who began as Hitchcock's secretary and became an essential member of his inner circle; she scouted projects for him and had writing credits on several of his films, including Rebecca (1940) and Suspicion (1941). When Harrison became one of Hollywood's only women producers in the 1940s, she hired Fly-by-Night's director, Robert Siodmak, to helm her maiden production, the landmark noir Phantom Lady (1944).
Article continues after advertisement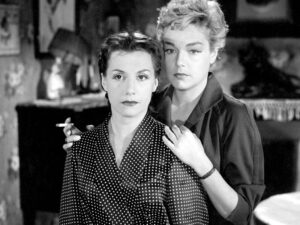 Diabolique (1955)
It's one of the most fascinating what-ifs of Hitchcock's career. He sought the rights to the 1952 novel Celle qui n'était plus (She Who Was No More) by the writing team of Pierre Boileau and Thomas Narcejac, but was beaten to the punch by French filmmaker Henri-Georges Clouzot. Clouzot's film about the wife and the mistress of a sadistic schoolteacher teaming up to kill him became an international sensation. When preparing Psycho (1960), Hitchcock shorthanded it to the press as a film "in the Diabolique genre." In the meantime, he recovered from his disappointment by optioning the subsequent Boileau-Narcejac novel D'entre les morts (From Among the Dead), which formed the basis for his most personal film, Vertigo.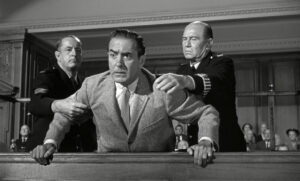 Witness for the Prosecution (1957)
As anyone who has sat through The Paradine Case (1947) can testify, courtroom dramas were not Hitchcock's strong suit. Also somewhat surprisingly, he never made a film based on the work of Agatha Christie. It's ironic, then, that he was regularly complimented for the handiwork of director/cowriter Billy Wilder on Witness for the Prosecution. The confusion is readily understandable; the adaptation of Christie's play about a wastrel (Tyrone Power) on trial for murder is steeped in Englishness, laced with wit, and hinges on a shocking late revelation that audiences were implored to keep secret, a gimmick later echoed by Psycho. Wilder had tracked Hitchcock's career since they had first crossed paths at the German film studio Ufa in the early 1930s, while Hitchcock greatly admired Wilder's Double Indemnity (1944). To hear Wilder tell it, Prosecution was Christie's own favorite of the films taken from her writing.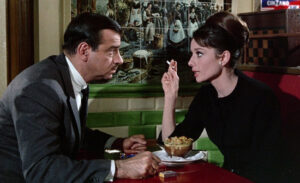 Charade (1963)
This Stanley Donen-directed, Paris-set bauble is the clear winner of the "Wait, that's not a Hitchcock?" sweepstakes. Audrey Hepburn plays a recent widow who learns from a CIA officer (Walter Matthau) that her late husband was a dastard. Soon, she's being menaced by a trio of heavies (including future Academy Award winners James Coburn and George Kennedy) double-crossed by her departed spouse. The primary reason why this mash-up of To Catch a Thief and North by Northwest (1959) erroneously ends up in the Hitch column is the presence of the star of those films, Cary Grant, as a stranger who only wants to help Hepburn—unless he's secretly the mastermind behind the machinations. I want to like this movie more than I do; the comedy, suspense, and romance jostle elbows too vigorously. But Charade packs ample charm, and when it works it's beguiling.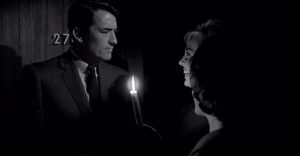 Mirage (1965)
You must remember this: Gregory Peck has amnesia. Only we're not talking about Spellbound (1945), a movie that counts among its detractors Alfred Hitchcock, who dismissed it as "just another whodunit" and later told fellow director François Truffaut, "The whole thing's too complicated … (and) very confusing." The psychological underpinnings of Peck's memory loss in Mirage aren't presented as baroquely as they are in Spellbound. They're drawn more from the actor's Man in the Gray Flannel Suit image as he portrays an executive obsessed with floors in his company's headquarters that apparently don't exist. Filmmakers David Siegel and Scott McGehee (2001's The Deep End) called Mirage, directed by Edward Dmytryk and written by Charade's Peter Stone, "an ideal example of a mid-sixties modern paranoid aesthetic" and a major influence on their own black-and-white (in every sense) amnesia yarn, Suture (1993).
Article continues after advertisement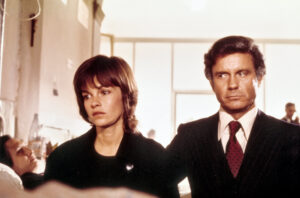 Obsession (1976)
C'mon, you knew Brian De Palma would appear on this list. The only question is which Hitch-influenced De Palma movie to select? His filmography is studded with them, from Sisters (1973) to Femme Fatale (2002). I opted for the one that is, in a sense, the most Hitchcockian. De Palma and screenwriter Paul Schrader concocted the story for Obsession—about a widower who meets the doppelganger of his late wife—out of their admiration for Vertigo, and the film features one of the final scores by frequent Hitchcock composer Bernard Herrmann. It is also the most De Palma of De Palma movies; the plot, when all its twists are revealed, is both preposterous and deeply, deeply disturbing, yet De Palma's technical skill—aided immeasurably by a bravura performance from Geneviève Bujold—vaults past the inconsistencies and unsavory elements to conjure an overpowering atmosphere of doomed romanticism.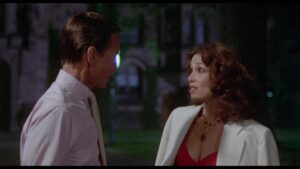 Last Embrace (1979)
A dazzling set piece at a landmark location. It's a Hitchcock trademark. A villain plunging to his death off the Statue of Liberty in Saboteur (1942); an assassination attempt at Royal Albert Hall in The Man Who Knew Too Much (1956); the chase across Mount Rushmore in North by Northwest. This woefully underrated thriller, directed by Jonathan Demme over a decade before The Silence of the Lambs (1991), serves up a compelling story of a government agent (Roy Scheider) recovering from a nervous breakdown who is convinced that his employers, led by a baby-faced Christopher Walken, are out to retire him permanently. It turns out someone is trying to kill him—but not for the reason he suspects. Demme closes the action with a taut sequence shot at Niagara Falls that takes full advantage of the locale. Fun fact: Mandy Patinkin, who appears briefly in Last Embrace, would play the Roy Cohn-inspired heavy in the muddled faux-Hitchcock film The House on Carroll Street (1988), memorable only for its own climactic pursuit across the catwalks above New York's Grand Central Station.
Confidentially Yours (1983)
A new crop of French film critics elevated Hitchcock from peerless entertainer and craftsman to artist in the 1950s. Possibly to Hitch's detriment; screenwriter William Goldman suggested that having "become encased in praise" thanks to these auteur-minded critics, "Hitchcock himself had become The Man Who Knew Too Much." Many of those critics became filmmakers themselves; Claude Chabrol cowrote the first book on Hitchcock with fellow director Éric Rohmer before embarking on a career marked by the coolly dispassionate thrillers that earned him the sobriquet "the French Hitchcock," while François Truffaut collected his interviews with the Master of Suspense in the essential text Hitchcock/Truffaut (1966). Truffaut made several films in the Hitchcock mold, the best known of them the arch and artificial The Bride Wore Black (1968). I prefer the fizzy warmth of Truffaut's final film, a more fitting tribute to what Hitchcock and Truffaut each did best. Shot in glorious black-and-white, Confidentially Yours also tweaks various noir conventions as it follows a luminous Fanny Ardant as a secretary determined to clear the boss she secretly loves of multiple murder charges. A cinematic bonbon.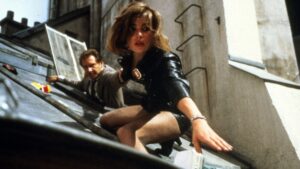 Frantic (1988)
"MacGuffin"—a plot device that sets the story in motion—is a term synonymous with Hitchcock, even if he did borrow the notion from screenwriter Angus MacPhail. Hitch claimed that what the MacGuffin is doesn't even matter; in several cases, he and his writers didn't come up with one until they'd already outlined the entire script. Offered as supporting evidence: Frantic. I've seen Roman Polanski's film multiple times and can never remember what the bad guys are after. I can only recall the bleary odyssey across Paris of visiting American doctor Harrison Ford after his wife (Betty Buckley) is kidnapped soon after their flight lands. Polanski may be Hitchcock's most gifted disciple. Witness the moments before Buckley's disappearance, a jet-lagged series of miscommunications in an unfamiliar hotel room. Or the breathless climax of Polanski's neglected The Ghost Writer (2010), which wraps up the plot and the fate of protagonist Ewan McGregor with a minimum of dialogue. (OK, I looked up the MacGuffin in Frantic and I could tell you what it is, but Hitchcock was right. It doesn't matter.)
Article continues after advertisement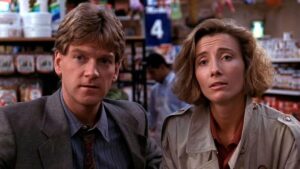 Dead Again (1991)
The neo-noir boomlet of the early 1990s—may those hallowed days return—spawned its share of films that allowed directors to get their Hitch on: Wolfgang Petersen's amnesia thriller Shattered (1991), with its gonzo plot twist; the overripe Final Analysis (1992), doubling down on Hitchcock blondes with Kim Basinger and Uma Thurman; Paul Verhoeven presiding over the hothouse lunacy of Basic Instinct (1992). But no director wore his influences more gleefully on his sleeve than Kenneth Branagh. Then the boy wonder hot off his triumph with Henry V (1989), he made his American directorial debut with a film tailor-made for his theatrical sensibilities. Scott Frank's script has an L.A. shamus looking into a mystery woman's past only to discover the answer actually does lie in the past, namely a flashy murder in 1940s Hollywood. The story veers into the supernatural with a reincarnation plot Hitchcock would have frowned upon, and the less said about the closing confrontation the better. But the use of actors in multiple roles as the action jumps between decades (with contrasting color and black-and-white photography to match) is fun, as is Branagh's evident delight in walking in Hitch's footsteps.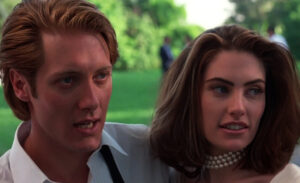 Dream Lover (1994)
How well do you know your significant other? Hitchcock posed that question of trust often, most effectively in Suspicion. The directorial debut of Oscar-nominated screenwriter Nicholas Kazan (Reversal of Fortune) flips the genders of Hitch's film, with James Spader as a recently divorced man who falls hard for Twin Peaks's Mädchen Amick—only to start questioning who she is once they've tied the knot. Spader had already proved himself an effective Hitchcockian hero, having worked that side of the street in Bad Influence (1990), a seedy SoCal thriller with Strangers on a Train vibes. Dream Lover sank without a trace, but I've always had a soft spot for it because of its mordantly perverse ending; it plays like an R-rated episode of Alfred Hitchcock Presents, which featured many a murderous marriage.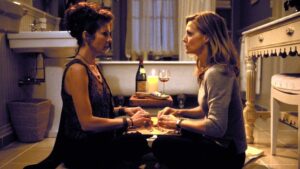 What Lies Beneath (2000)
Some carp about Hitchcock's preference to work with big stars, but this approach allowed him to mine those larger-than-life personas for unexpectedly dark shadings; consider the complexities that he drew out of Cary Grant and James Stewart. What Lies Beneath, directed by Robert Zemeckis, is too slow a burn and, like Dead Again, takes a regrettable leap into the otherworldly—can't people be terrible to each other, like they were in the 1940s and '50s, without ghosts turning up?—but it also dares to wonder if Harrison Ford, of all people, could be a villain. The film begins in Rear Window mode, with Michelle Pfeiffer (in a terrific, febrile performance) paying too-close attention to the squabbling couple that just moved in next door. But soon she's wondering if the real problem isn't her husband (Ford), an academic burdened by his famous father's reputation. It's the kind of pairing of boldfaced names that Hitchcock regularly brought off, and that Hollywood seems to have forgotten how to make.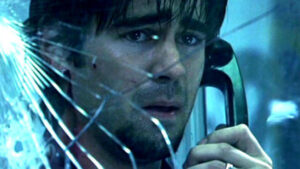 Phone Booth (2002)
This one makes the list because it almost was an Alfred Hitchcock movie. In the 1960s, Hitch became friendly with screenwriter/future director Larry Cohen; Hitchcock even toyed with making Daddy's Gone A-Hunting (1969), a hot-button script cowritten by Cohen about a disturbed man who abducts the infant of a woman who had aborted their child years earlier. Cohen described an epic lunch with Hitchcock to film historian Patrick McGilligan, saying Hitch auditioned writers by asking how they'd resolve various scenarios he'd conceived. Cohen suggested a film set in real time entirely in a phone booth. Hitchcock sparked to the idea, but they never cracked the story. For years afterward, whenever they met, Hitchcock would ask, "How are you coming with our telephone booth picture?" Only decades later did Cohen craft a convenient solution, telling McGilligan, "I never thought of a sniper, which I should have." Slick Manhattan publicist Colin Farrell finds his life laid bare by the unseen gunman voiced by Kiefer Sutherland when he uses the title convenience. Joel Schumacher's film practically has to explain what a phone booth is—by 2002, they'd become a rarity—and the street life around Farrell seems to have time-warped in from the 1970s, when the booths were plentiful. Watching the movie, you can't help wondering what Hitchcock might have done with the premise.
Article continues after advertisement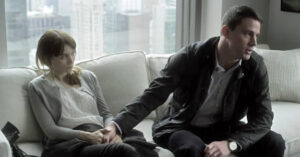 Side Effects (2013)
It's fascinating to contemplate how Hitchcock might capitalize on contemporary issues were he making thrillers today. Steven Soderbergh, reuniting with Contagion screenwriter Scott Z. Burns, offers a possible glimpse in this cagey piece of work. Psychiatrist Jude Law finds himself the center of a scandal when his troubled patient (Rooney Mara) murders her insider-trading husband (Channing Tatum) while under the influence of an experimental new antidepressant he prescribed. As his life unravels, he begins to suspect that there's more going on. Soderbergh returned to this vein with Kimi (2022), folding Covid and smart tech into a framework Hitch would have appreciated. That film was written by David Koepp, whose work on projects like the aforementioned Bad Influence and David Fincher's Panic Room (2002) mark him as a scribe of a true Hitchcockian bent.
Decision to Leave (2022)
South Korea's Park Chan-wook (Oldboy) did not consciously channel Hitchcock while cowriting and directing Decision to Leave, but acknowledged after seeing the final assembly that the Master's influence was evident. "Vertigo is the film that made me want to become a filmmaker," he told Carlos Aguilar of the Los Angeles Times, adding "Hitchcock was my film school." He even went as far as casting actor Park Hae-il, whom he described as "the James Stewart of Korea," in the role of a diligent police detective investigating what appears to be a suicide, who finds himself drawn to the dead man's enigmatic widow (Tang Wei). As they circle each other, questioning their motives and affections, the film builds a rapturous, operatic intensity that Park sustains to the devastating finale. A story about the deceptions people will endure in order to prove to themselves that their love is true, Decision to Leave is also evidence that, almost fifty years after the last Alfred Hitchcock movie, his work continues to inspire our best filmmakers and engage attentive audiences.
***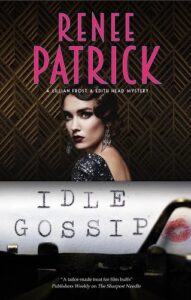 #Survey #Hitchcock #Films #Directed #Alfred #Hitchcock #CrimeReads



Source link