Celebrities
Eric André Talks Emily Ratajkowski Nude Pics, Reflects on Short-Lived Romance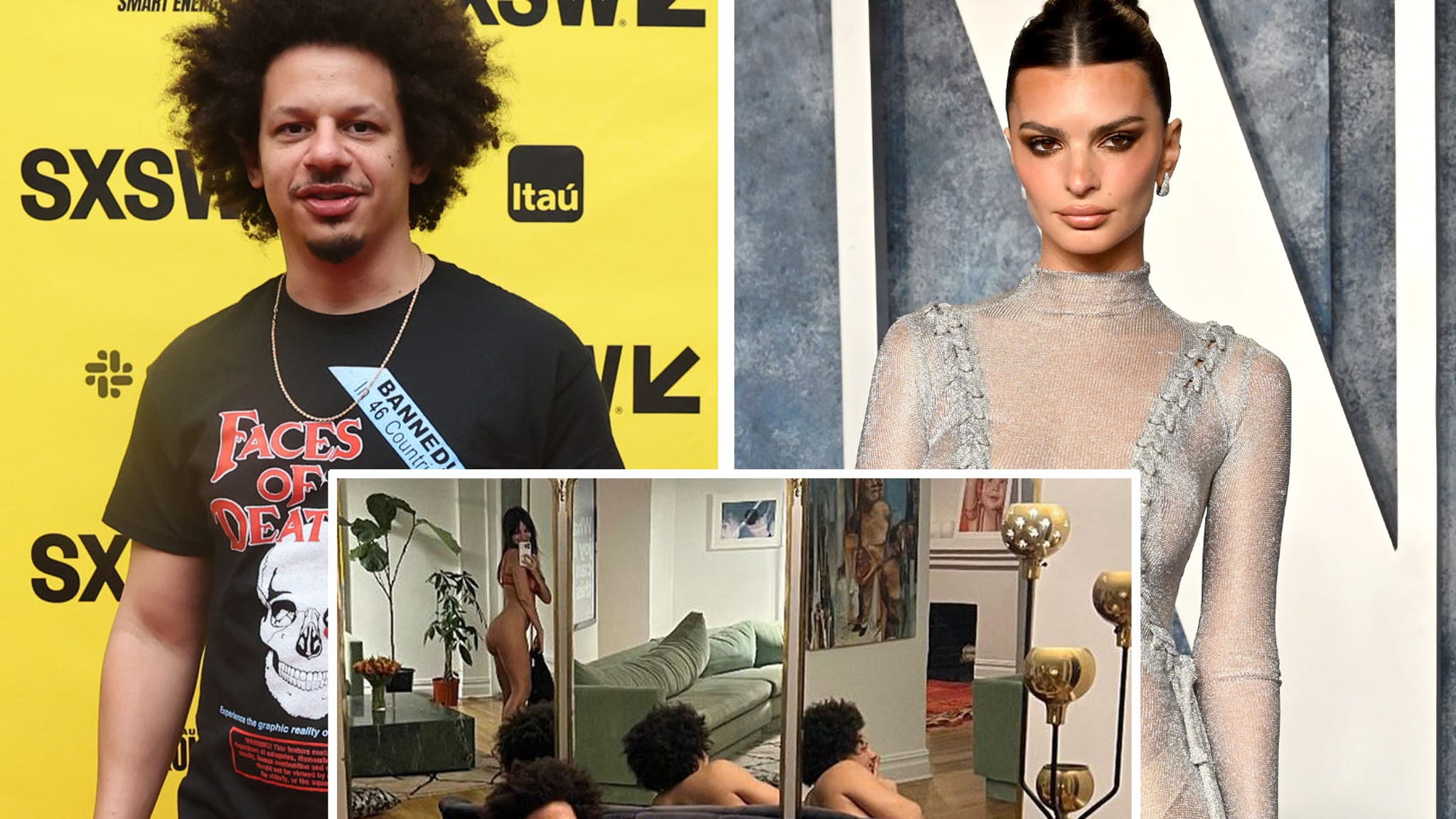 "We both agreed this was a beautiful image that we had to share with the world," the comedian said of his Valentine's Day Instagram post.
Eric André is opening up about his short-lived romance with Emily Ratajkowski, including their nude Valentine's Day photo shoot.
In a new interview with Rolling Stone, the comedian recalled how it all went down, describing the NSFW photos as "beautiful" and "iconic."
For those who don't know, the spicy photos featured André posing on a couch while holding a glass of wine. André appeared to be completely naked, however, he added a heart emoji to cover his private area. Ratajkowski — who seemingly shot the photos — could be seen in the reflection in the mirror behind André, with the model wearing nothing but a bra.
"Emily popped up and took that picture. I was really in the moment: I was drinking wine, she started dying laughing, and she was like, 'I have to take a picture of this,'" André, 39, told Rolling Stone. "She took the picture, we both started cracking up, and she was like, 'This is iconic' — she kept saying 'iconic.' We both agreed this was a beautiful image that we had to share with the world."
After the interviewer jokingly called the photos André "draw me like one of your French girls" from "Titanic" "moment," he said, "It really was! And there wasn't much thought behind it. It was one of those things. And I think that's what art is about. Art is not intellectual; it's primal. It has to speak to your hormones as much as it speaks to your mind. The beauty of that was the spontaneity. Spontaneity and capturing happy accidents are what art is all about."
The "Bad Trip" star went on to reflect on his headline-making relationship with Ratajkowski, joking that he doesn't "kiss and tell, bro!" However, he shared more thoughts regarding the media coverage of their romance.
"I think the think pieces and the mythology are more interesting than the reality," André said, before reacting to headlines and stories about his relationship with Ratajkowski, in which people seemed surprised by the pairing.
"How could this happen!" he quipped, adding, "No, man. I'm ugly. I looked like Steve Urkel for the first 20 years of my life. I think that people think attraction is only based on physical appearance, but beauty is only skin-deep."
"The Eric André Show" host pointing out how several funny male comedians are in relationships with beautiful female actresses, noting that Colin Jost is married to Scarlett Johansson, and John Mulaney is in a relationship with Olivia Munn. "So you'd think comedy … works," he said.
Ratajkowski and André reportedly began dating in January. The two were first linked after they were spotted out in public together in New York City. Ratajkowski and André continued to fuel romance rumors after they were seen on vacation together in the Cayman Islands a few weeks later. The pair were then seen spotted at a New York Knicks name, just one day before André shared the Valentine's Day post.
Only a few days after André posted the Instagram photos, Ratajkowski shared a short TikTok video about the end of a "situationship." In the clip, she used a popular TikTok sound from the 2019 movie, "The Peanut Butter Falcon," as she filmed herself while lying down on her bed, seemingly topless.
The five-second video began with Shia LaBeouf's character from the movie asking, "What's rule number one?" At the same time, the words, "What should you do when a situationship ends?" appeared on top of Ratajkowski's video.
The actress then lipsynched over Zack Gottsagen's character's response: "Party." She added the words, "Start another one."
Ratajkowski stared at the camera as LaBeouf's voiceover said, "No, not party. No, it's not party."
Although the 31-year-old didn't outright mention André in her TikTok video, the timing of the clip immediately had fans running to the comments section to speculate whether or not she was referring to the comedian — and suggesting that they had split.
"NOT OUR BOY ERIC???" a user asked, while another commented, "DONT TELL ME ERIC IS OVER."
"On to the next one but dang right after that V day post!" another added.

#Eric #André #Talks #Emily #Ratajkowski #Nude #Pics #Reflects #ShortLived #Romance



Source link